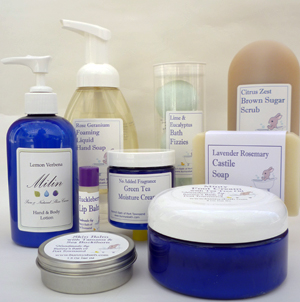 I've gotten a little behind on the activities of "my artists," but here's an announcement of a 25% off anniversary sale (with online promo code 12years) on Bunny's Bath products through the end of May! I know many of you, like me, have gotten hooked on her fine natural bath and body products. My skin is all the better for it.
Lyn says, "I have personally developed all the formulations and hand make everything in small batches to maintain freshness. I have spent many hours researching ingredients to find the best natural components for healthy and beautiful skin, and I use only the finest quality plant oils and extracts that I can find. Best of all you won't find any of those difficult to pronounce ingredients with long chemical names on our labels because the products never contain any silicones, petroleum based ingredients, paraben or formaldehyde producing preservatives, glycols, dyes, sulfates, or other synthetics. I hear from many customers who have had trouble finding skin care products they can use, and they tell me how happy they are to have finally found products they can use with out a negative reaction."
Happy Anniversary, Lyn! I'm so happy that you've been with me since the beginning of Flying House Art & Craft Sale, as one of my "anchors."
Ready to stock up or try something new? Shop here, and don't forget the promo code to get 25% off EVERYTHING.
Note: Bunny's Bath can also be found at a number of  retailers on the Olympic Peninsula, as well as The Herbfarm in Woodinville (with private label). A full list is here.